Photograph © Wayne Lorentz/Artefaqs Corporation
Photograph © Wayne Lorentz/Artefaqs Corporation

Scroll down for more pictures

Photograph © Wayne Lorentz/Artefaqs Corporation
Photograph © Wayne Lorentz/Artefaqs Corporation
Photograph © Wayne Lorentz/Artefaqs Corporation
Photograph © Wayne Lorentz/Artefaqs Corporation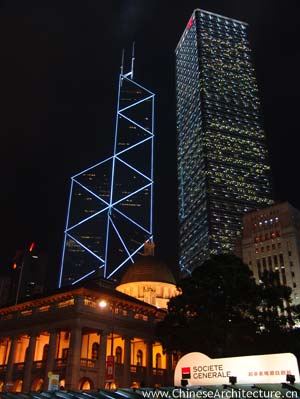 Photograph © Wayne Lorentz/Artefaqs Corporation
Photograph © Wayne Lorentz/Artefaqs Corporation

Print this page
•

Share this page
•

Map This
Another example of "exotic is in the mind of the beholder." In an American city, the Cheung Kong Center would be just another black glass block. But in Hong Kong it is a landmark. Similarly, some of the most common skyscrapers of Asia would seem fascinating if placed in an American city. Either way, the tower has a significant cultural and physical presence in Hong Kong. It had the fortune of opening for business at the height of the 1990's "Dot-Com" boom, which helped elevate its status and Q factor. Like other buildings, though, it suffered when the bubble burst. The Cheung Kong Center is adorned by a grid of fiber optic lights that can be programmed to change color. This sprakling illumination is only enhanced by the building's black curtain wall which makes the building a silhouette in the daytime, and an inky peaceful void at night. That peace is paramount to the building's mission. It was not intended to steal the limelight from its neighbors, most notably the Bank of China building. Its maximum height was determined by drawing an imaginary line from the Bank of China building to the Hong Kong Bank building. The relegated the Cheung Kong Center to being just the third-tallest building in the city when it was completed. But it gained much more by evening out the cacophony of architectural styles that had gathered along that section of Queens Road. Moreover, the Cheung Kong Center balances out its neighbors. One of the people who had a hand in the design was a Feng Shui master who decided that the new building had to absorb the negative energy coming from the Bank of China's sharp edges. While these may seem expensive steps to take for an office building, consider the fact that it is also partly residential. The building was constructed for Li Ka Shing, one of the richest people in the world. He took residence in the top floor.
February 24, 2009: Stunt climber Alain Robert climbed the outside of this skyscraper. For once, he didn't face any criminal charges because the owner of the building did not file a complaint.
"The colored lights which we were asked to add to the Cheung Kong Center are very much in character. Anywhere else, they would be considered garish."

-Cesar Pelli "Cesar Pelli in the City of Towers
method='post' action='/Building.php?ID=89#Rate'>Current rating:
80% name='Rating' id='Rating' value='Praise' class='Plain'> name='Rating' id='Rating' value='Raze' class='Plain'>

There is one comment.