Photograph © Wayne Lorentz/Artefaqs Corporation
Photograph © Wayne Lorentz/Artefaqs Corporation
Photograph © Wayne Lorentz/Artefaqs Corporation
Photograph © Wayne Lorentz/Artefaqs Corporation
Photograph © Wayne Lorentz/Artefaqs Corporation
Photograph © Wayne Lorentz/Artefaqs Corporation
Photograph © Wayne Lorentz/Artefaqs Corporation
Photograph © Wayne Lorentz/Artefaqs Corporation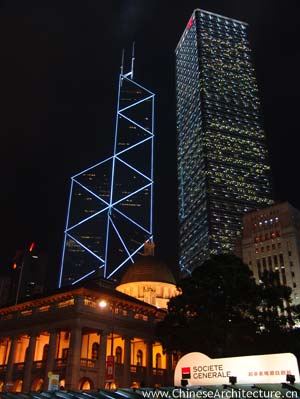 Photograph © Wayne Lorentz/Artefaqs Corporation
Photograph © Wayne Lorentz/Artefaqs Corporation
The Bank of China Tower

| | |
| --- | --- |
| Official name: | Bank of China (Hong Kong) Tower |
| Also known as: | Bank of China Hong Kong Tower |

Print this page
•

Share this page
•

Map This
Text by Wayne Lorentz
A star among stars, the Bank of China building represents its host city in a number of ways. It is unmistakably modern, blending well with the urban metropolis that has sprouted on the South China Sea. It climbs 1,209 feet into the sky in a dazzling spectacle of blue glass and white framing. Although surrounded by dozens of other skyscrapers, this tower stands out among them all as a landmark in Hong Kong's skyline. The building, however, is uniquely Chinese. Standing among the glass and steel reeds of its neighbors, this building takes the bamboo forest allegory one step further. It is actually constructed in a shape that resembles the stalks of bamboo pushing skyward with a strong central shaft and flanking columns. The building's structural form also defers to Chinese tradition, hiding portions of the exterior cross braces to create diamonds rather than x-shapes in the sky. The cross is considered a symbol of bad luck in Chinese culture, and this could be detrimental to the building's occupancy rate even in modern, overcrowded Hong Kong.
method='post' action='/Building.php?ID=90#Rate'>Current rating:
90% name='Rating' id='Rating' value='Praise' class='Plain'> name='Rating' id='Rating' value='Raze' class='Plain'>

There are four comments.

suherdene - Sunday, March 22nd, 2009 @ 10:17pm

Jesse Ehret - Tuesday, November 14th, 2006 @ 11:27am


D.A. - Tuesday, February 28th, 2006 @ 10:16am


Gloria Cho - Thursday, October 14th, 2004 @ 2:56pm